Have your workwear the way you want it with GS Workwear
We understand that every business and workplace operate differently and have differing requirements. With this in mind, we work with all businesses and people who need workwear that suits their needs.
No job too big... or too small

Whether you work on your own or have 100 employees who need uniform, we can meet your needs.

We recognise that everyone might need to have their workwear customised, so that's why we are happy to work with anyone who needs to have logos, icons or
even text applied to their workwear.
Complete End-to-End Experience

No one wants to have to use multiple avenues to have a job completed. That's why we are your one-stop-shop for all your workwear needs.

With GS Workwear, you can enjoy the ease of ordering your new kit and having
it customised as part of the same transaction. You can even have items not being customised sent separately, so they arrive sooner.
Before executing any of our customisation jobs, we want to make sure that you are getting exactly what you order.

From the initial contact right through to the delivery and beyond, we ensure that your vision is brought to life the way you intended it to.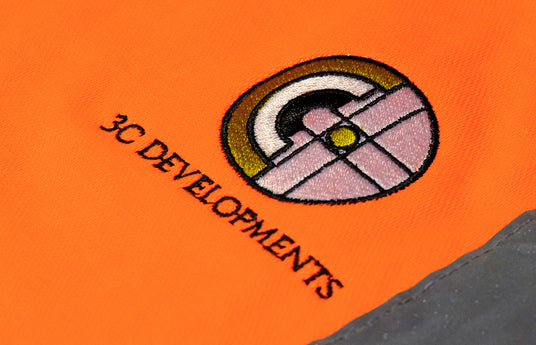 Pricing & Sizing
To help make this process as simple and transparent for everyone, please find our size dependant pricing structure below:
Embroidery -
Small Embroidery (up to 14cm x 14cm) = £3.80 (exc VAT) per logo/icon
Large Embroidery (up to 30cm x 30cm) = £7.20 (exc VAT) per logo/icon
Logo Digitalisation (One Time Charge) = £18 (exc VAT) per logo/icon
Printing -
Small Printing (up to 15cm x 15cm) = £3.80 (exc VAT) per logo/icon
Large Printing (up to 45cm x 45cm) = £6.60 (exc VAT) per logo/icon